April 18th, 2018

After months of hard work I can proudly present to you the next version of Typeface app; the wonderful font manager for macOS just got a whole lot better. Typeface 1 received lots of great reviews on the Mac App Store and helped many designers create amazing typography, but it was time to improve the app even further.
Rethinking font management
Typeface 1 was praised for its quick and accurate font previews, it really allows you to sit back and explore your font library. The full customization of preview text and appearance, its fonts-first UI approach and handy font compare feature were a first for font managers and hasn't been matched by others. But the number one requested feature was better font management, which wasn't very well thought out.
Until now.
Typeface 2 offers a very flexible tagging system which allows you to organize your fonts however you want. Nest tags, combine tags, filter tags and invert tags. And as you'd expect, font management in Typeface is not only really advanced but also very user friendly.
The smart sidebar highlights which tags are already attached when you start dragging fonts and attaching or detaching tags is easy. The sidebar also easily collapses to keep a focus on your fonts, so it won't compromise your font exploration.
Instead of just being the number one font viewer, Typeface has turned into the number one font management tool as well.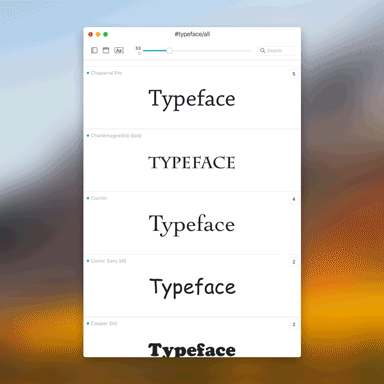 Redesigned UI
Together with the new sidebar, the toolbar has also received some love. Searching has been promoted to a dedicated place in the app and the three new main icons are simpler to understand. The app title now shows context-sensitive messages and lets you know exactly where you are.
Context menus have been streamlined and a new 'info' tab has been added to the font detail view for the meta-data junkies.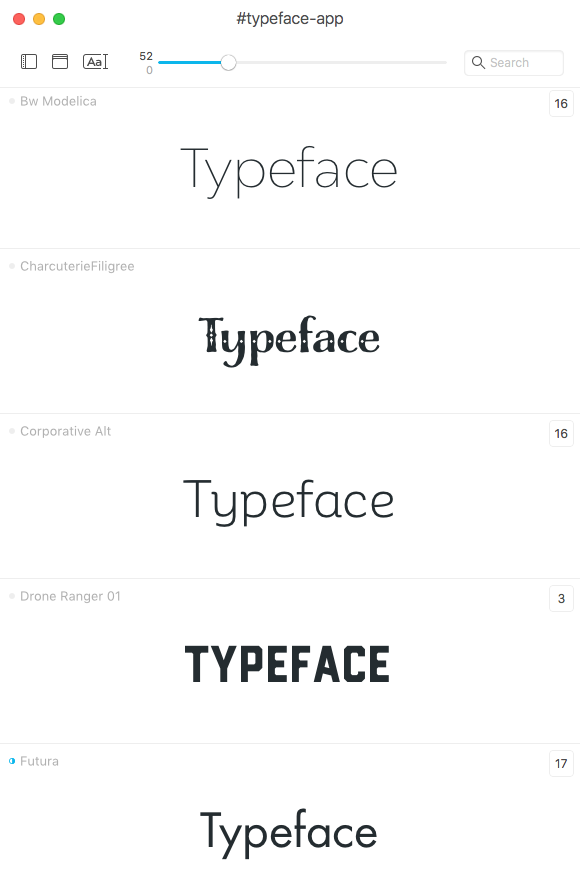 Want to know more?
There is a lot of new stuff to enjoy in Typeface 2:
Powerful tagging functionality
Smart collapsible sidebar
Redesigned toolbar
Extra font info
Improved font comparisons
Synced directories
Auto font activation (beta)
Improved Quick Collection actions
Redesigned app icon
New preview input
Read the release notes to see all that's new in Typeface 2 or check the homepage for more features and details. And don't forget to download the brand new trial and see for yourself if Typeface becomes your new favorite font manager.
P.S. The update to Typeface 2 is totally free for existing users. That's right, go download that update in the Mac App Store right now.
Enjoy!
---