Support
Fox is here to give a helping hand. Err… paw. Rawr.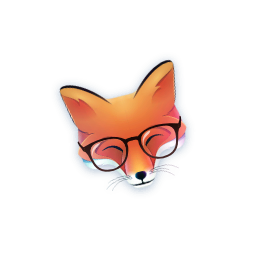 Want to learn more about the app?
Read these handy Articles & Tips
FAQ
Which macOS versions are supported?

Typeface supports macOS 10.12 Sierra and later.

Does Typeface support Apple M1?

Yes, Typeface 3.1.0 added native support for Apple Silicon. You don't need Rosetta to run the app on your M1 Mac.

Is Typeface a web app?

Absolutely not! Typeface is a fully native macOS application. That ensures high performance and close integration with macOS to give you the best font management experience.

What fonts are supported by Typeface?

The following file types are supported: *.ttf, *.otf, *.dfont, *.ttc, PostScript Type 1. Note that PostScript Type 1 fonts are being phased out by Apple and Adobe and support may be dropped in future macOS releases. Learn more

Why are fonts automatically deactivating after a while?

Fonts manually activated using Typeface should stay activated until explicitly deactivated, even after restarting your Mac. If that's not the case there might be an outside process interfering. Learn more

Can I download an older version of Typeface?

Older versions are currently not supported and not available. Contact support if you have a specific use case.

When is feature <x> coming?

I don't know. Features come whenever they are ready. Send a feedback message to let me know what specific feature you'd like to see and I'll add it to the wish list.

Can I make a backup of my tags?

Choose Preferences > Library > Export Tags to export a backup file. This backup includes the descriptions for all your tags, it does not contain any fonts. When you import a backup the tags will be applied to all currently imported fonts.

Can I sync tags between Macs?

While automatic sync is not available at the moment you can manually import and export your tags. Choose Preferences > Library > Export Tags and transfer the backup file to another Mac. Then choose Preferences > Library > Import Tags to apply the backup and import the tags.
---
Licenses & purchasing
Can I try Typeface before purchasing?

Sure! You can download the free 15 day trial to test the app. All features are available.

How does the trial work?

The trial is a fully featured version of Typeface which is valid for 15 days. To continue to use Typeface after the trial period you can purchase a license. Once you've registered the app you can continue with the same font library you've used during the trial. A full trial is not available for the Mac App Store version.

How long is my license valid?

You can use your purchased version of Typeface forever — there are no hidden costs or subscription fees. Make sure you use a supported version of macOS, as future OS updates might change the behavior of Typeface.

Can I use Typeface on multiple Macs?

A Typeface license is valid for a single user. You can use the license on as many Macs as you own as long as no other person is using the app. For example if you have an iMac and a MacBook you can install and use the app on both of your devices. If another person wants to use the app (either on their device or on one of your devices) that person needs an additional license. Read the EULA for more information.

Can I buy multiple licenses for my team?

Sure, use the Typeface Store to buy multiple license seats. You'll receive a single license file which can be used to register the app on multiple Macs, so it's easy to install and maintain. You'll also get a Volume Discount for multiple seats.

Typeface says my trial is expired, but I've already bought the app.

You can use your license file to register the app. Double click your license and Typeface will open automatically. Purchased on the Mac App Store? Choose Typeface > License > Restore Purchase to restore your previous purchases. Once restored your purchased features will unlock and you can continue to use the app.

What is the difference between the standalone (web store) version and the Mac App Store version?

There is no functional difference. Both share the same features, both are secure & Sandboxed, both are awesome! Just pick the one you think is most convenient for you. The standalone version might receive updates a little faster.

Help! I lost my license file :(

Whoopsie daisy. You can get the license from an already registered app by choosing Typeface > License > Show in Finder. Can't find it? Let me your order number so I can take a look. You can find that in your order mail. If you've purchased the app on the Mac App Store you don't need a license and you can directly download the app from there.
Contact
Not found what you're looking for?
Feel free to send a message to get your questions answered.
Support & Feedback
Are you experiencing app issues or want to report a bug? Send an in-app message using the Typeface support panel. Your message will include system info and app logs which may be helpful when solving your issue. Of course you can always send an in-app support message whenever you have a question or want to provide feedback about the app.
Choose Help > Support & Feedback from the main menu and fill in your details.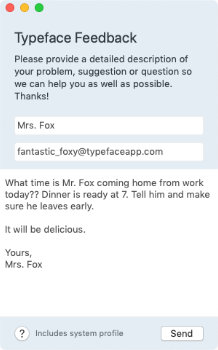 Besides sending an in-app feedback message you're welcome to send an email to hello@typefaceapp.com or say hi on Twitter. Most messages are replied to within 24 hours.
If your question is about your license or purchase make sure to include your order number. Happy to assist!