Store
Get your new favorite font app. Exciting!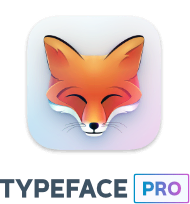 Includes new Pro features released in upcoming 12 months
Free updates
No subscription
Yours forever
Add multiple users for your team and get up to 30% volume discount. Want to use the app yourself only? A single-user license will do and can be installed on multiple devices.
What is Typeface Pro?
Typeface Pro unlocks all features in Typeface 3, including font activation, importing your fonts, previewing body texts, variable fonts, OpenType features... absolutely everything. Purchase a Pro license to continue to use the app after your free trial has ended.
What do I get when I purchase Pro?
In addition to all currently available features you'll get all new Pro features that will be released in the upcoming 12 months for free. And you'll get regular updates for free as well, even after 12 months.
So, how does it work?
You buy a license now and get access to all features. For the next 12 months all updates are free, including new Pro features. After 12 months you can continue to use the app, all Pro features you've unlocked stay available and you'll still receive regular updates as well (bug fixes & features). Any new Pro features released after 12 months require an extension of your license. This optional extension again gives you access to all Pro features released up to then and another 12 months of new Pro features. You can extend at any moment after 12 months.
Is Typeface Pro a subscription?
No, subscriptions are no fun! You'll only have to buy Typeface Pro once to unlock the app. You'll get access to all current features, forever. Extending your license after 12 months is totally optional. You can continue to use the app and all the Pro features you've unlocked so far.
What are Pro features?
The Pro features in Typeface provide advanced functionality that improve your design workflow and help you manage your fonts. The current Pro features are:
Body text layout previews
OpenType feature inspection
Temporary font activation
Variable fonts tuning
Finding duplicates
Multi tagging
Advanced filters
Font context info
Are updates free?
Typeface will receive regular updates including bug fixes and new features for free. You'll continue to receive these updates even after 12 months. Only new Pro features released after your 12 months Pro period require a license extension.
Can I use Typeface after 12 months?
Of course you silly. Purchase Typeface once and it's yours forever. Extending your license is not required and you can always keep using your unlocked features.
Why?
Typeface is an affordable font manager for Mac. Since first release in 2015 all updates have been free and regular updates will still continue to be free. The advanced Pro features streamline your design workflow even more and give additional value to your business, so a small upgrade fee is asked for these new features released after 12 months. This allows for continued development of the app and you don't have to wait for a big major release — new features can be released at all times!
What Pro features do I get the next 12 months?
It's a surprise :) Consider the extra Pro features to be a small gift. I hope you'll like them, but you can't return them if you don't.
What happens after purchase?
You'll immediately receive a mail containing instructions on how to register the app. Download and install the trial, then double click your personal license file to register the app. Make sure to keep your license somewhere safe just in case you want to register the app again later.
Does Typeface contain ads?
What? No! Eww.
Can I try Typeface before purchasing?
Yes, download the free trial to test the app on your Mac. You can try out all features for 15 days. After this trial period you can purchase Pro to continue to use the app.
Do I get any support?
Absolutely. Most mails are replied to within 24 hours. Sometimes you might get a reply before you've even sent your mail. I'm that fast. Except during the weekends, then I wait for you to mail first.
Can I install Typeface on multiple devices?
You are allowed to register your license on multiple devices, as long as you are the only one using the app. Multiple users need multiple licenses.
What is the difference between the website version and the Mac App Store version?
There is no functional difference. Both share the same features, both are secure & Sandboxed, both are awesome! Just pick the one you think is most convenient for you. The website version might receive updates a little faster.
Help! I lost my license file :(
Whoopsie daisy. You can get the license from an already registered app by choosing Typeface > License > Show in Finder. Can't find it? Let me your order number so I can take a look. You can find that in your order mail. If you've purchased the app on the Mac App Store you don't need a license and you can directly download the app from there.
How do I upgrade to Typeface Pro?
Launch the app and choose Typeface > Check for Updates... from the main menu to get the latest app version. If you have the Mac App Store version launch the Mac App Store to update the app. Then choose Typeface > License > Upgrade to Pro from the main menu. Or click on one of the locked Pro features. You'll get a personal discount based on your current license, so make sure the app is registered before upgrading.
Do I need to purchase Pro if I previously purchased Typeface 2?
No, updating to Typeface 3 is free for everyone. Upgrading to Pro is optional. Pro features introduced in Typeface 3 require a Pro license upgrade. Launch the app to get a personal discount based on your current license.