April 21st, 2021

The biggest update ever has just arrived: vastly improved internals, awesome performance and great new font features. In addition to all this exciting stuff Typeface will get a new pricing model. No, it's not a subscription — it's much better :)
Typeface 3
Work on Typeface 3 started in the summer of 2019 on a quick break. With a fresh mind and away from the daily routine I could start to think about the next version of the app.
Beginning with the basis: importing and loading font files. And oh boy, there is nothing better than rewriting the core of the app on a beautiful sunny day, with a magnificent view and a slight breeze blowing from the mountains.
The soothing environment was translated into code and formed the basis of a completely renewed and more robust file management core. It was the start of a promising update and a long development journey. Since January 2020 I have been fully focused on this new version, to deliver the best font manager ever.
And here it is.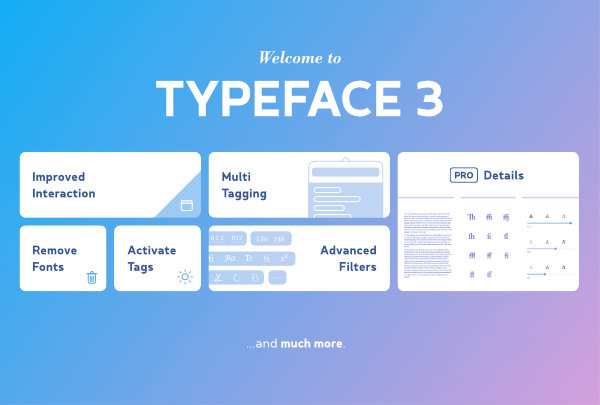 Free update
The improvements of the core of the app make Typeface faster than ever. It is much more responsive for those of you that have large libraries, supporting 100k+ fonts without slowdowns and up to 2x faster background syncs. Tagging fonts, collecting and font activation are significantly faster for everyone.
But that's certainly not all. Typeface 3 provides great new tools to help you efficiently organise your font library:
New
Remove Fonts
Cleanup your library by removing fonts from within the app. Right click on a font and choose Move Font to Trash. The font file will be moved to the macOS Trash can.
New
Order fonts by import date
Choose View > Grid > Order by Import Date to see all your freshest fonts first.
New
Hide system fonts
Don't care about all those default macOS system fonts? Disable the new Font Book location in Settings > Library. You can toggle the visibility of the location in the sidebar or remove all system fonts from the app.
New
Import single fonts
You can now import individual font files as well. The Manual tag in the sidebar will show you your manually imported fonts (the tag will be hidden if there are none).
New
Activate Tags
Directly activate all fonts attached to a tag at once.
New
Localized font names
Depending on your macOS locale localized font names will be displayed (e.g. Japanese font names).
And much more!
If you've previously purchased v2 (or v1) you can update your app to v3 today and get all these features for free.
To learn about all the improvements in the update check the Typeface v3.0.0 release notes, or choose Help > Introduction after updating to get a quick overview of what's new.
---
Introducing… Typeface Pro
In addition to all the previously mentioned improvements Typeface 3 introduces awesome new Pro features. These features provide advanced functionality to improve your design workflow, give more insight into your fonts and help you manage your font library.
It includes three brand new font detail panels: Body Text, OpenType Features and Variable Fonts.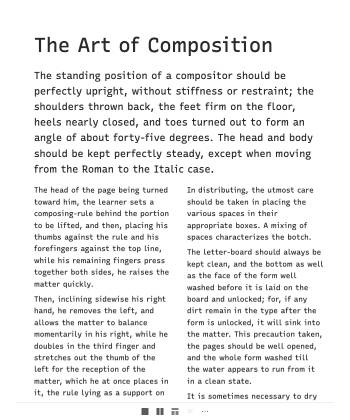 Pro
Body text layout previews
Find out how a font looks in a book, magazine or website article. You can preview one of the full body text layout presets and create your own custom templates.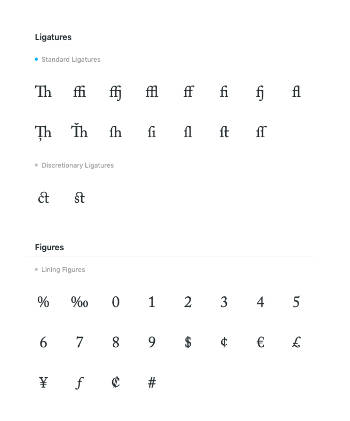 Pro
OpenType feature inspection
Take a deep dive into your fonts by inspecting all OpenType font features. Discover ligatures, figure styles, character alternates, fractions, capitals and more.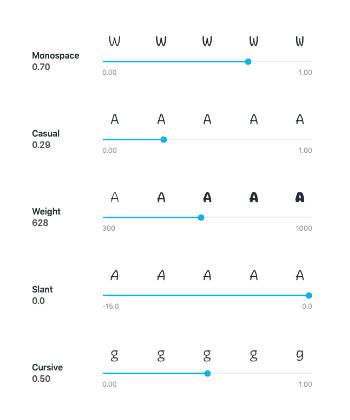 Pro
Variable fonts tuning
Tweak variable fonts to perfection. Get live previews of your adjustments and easily copy CSS values.
And to be more productive when managing your fonts the Pro features include four new handy timesavers:
Pro
Quick tagging
The new Quick Tagging panel allows you to attach multiple tags (to multiple fonts) at once, fully keyboard-controllable with fast fuzzy search. Neatly organising your fonts will be an absolute breeze.
Pro
Advanced filters
Get access to multiple new filters: x-height, figure styles, OpenType ligatures, alternates, fractions, variable fonts, color fonts, file types, manufacturer, designer and many more. All helping you find exactly the font you need.
Pro
Temporary font activation
Automatically deactivate fonts when you close the app or shut down your Mac. Useful when you're trying out some fancy fonts and forget to manually deactivate them later.
Pro
Font context info
The right click context menu contains a new info section which shows useful font information at a glance, including font name, designer, file kind and OpenType features. Click to copy a value to the clipboard so you can paste it directly into your favourite design app.
If you've previously purchased Typeface you can upgrade inside the app to get access to these new Pro features. New purchases will automatically include the currently available Pro features.
---

New pricing model
So far every single update for Typeface has been free, all the way back from first release in 2015. Typeface 3 is the first major release where a small upgrade fee is asked to get access to new functionality (and many improvements are still free).
The drawback of this model is that each major release needs to include many great new things to make it worthy to pay for. That means new big features and ideas are held back to be included in a major update in order to make it interesting to upgrade. And that's exactly what happened the past year. Updates to v2 have been sparse and focus was shifted to v3. It looks like development is paused, while behind the scenes a lot of work is being done.
A solution to this problem would be to switch to a subscription. While subscriptions are often great for developers (due to generating a steady income), it's not ideal for users. It just doesn't feel right to lock access to the app when you stop your subscription. And having multiple apps on a subscription quickly adds up to your monthly payments. So, no, Typeface won't switch to a subscription. Phew.
Instead a hybrid approach will be used, which is much more user friendly and (hopefully) also more developer friendly:
You purchase the app once, just like always
You can continue to use the app forever
New Pro features released in upcoming 12 months are free
After 12 months new Pro features can be unlocked by optionally extending your license
You'll continue to receive regular updates
It's similar to the Sketch model [edit: Sketch changed to a subscription] (sometimes called the Dutch model and I'm Dutch, so, yeah), but Typeface is less restrictive: you'll continue to receive regular updates, even after 12 months, and you can install the app on multiple devices as well.
The main benefit to all of this is that you don't have to wait for major releases to get new big features. New Pro features can be released at any time and you can decide whenever you want to upgrade. At any time after 12 months you can choose to extend your license to receive all Pro features released up till then, as well as another year of free Pro updates.
You can find more info about Typeface Pro on the Typeface Store.
---
Updating to Typeface 3
Do you need to purchase Pro if you've previously purchased Typeface 2? No, updating to Typeface 3 is free for everyone and you can continue to use all the features from Typeface 2.
Upgrading to Pro is optional. Pro features introduced in Typeface 3 can be unlocked by getting a Pro license upgrade.
Launch the app to get a personal upgrade discount based on your current license. You'll help future development of the app and get awesome new font management features in return.
Hope you'll enjoy the new update :)
---