October 9th, 2019

MacOS Catalina brings many new features, but some of your apps might not be supported any longer. Good news: Typeface is ready for the future and fully optimised to manage fonts on Catalina.
Catalina release
After 4 months of beta testing Apple has released macOS 10.15 Catalina into the wild. Catalina brings many new features (spoiler: iTunes is gone, hello Music!), but it will drop support for old 32-bit apps as well. This article will talk about what Catalina means for apps and font managers such as Typeface. tldr: Typeface is fully optimised to run on Catalina and keeps your data safe using the latest security tech. So keep on creating that beautiful typography!
No more 32-bits
Say goodbye to old apps: Apple has removed support for 32-bits apps in macOS Catalina. That means that older application that haven't been updated in a while will not run anymore. 64-bit has been the standard for some time now and allows your Mac to use more memory and enable faster system performance. Apple explains more about the transition to 64-bit and why 32-bit support has been dropped.
Before upgrading to macOS 10.15 you can check which of your currently installed apps are 32-bits and thus will not work on the new macOS:
Choose  > 'About This Mac' from the main menu, then click the System Report button.
Select 'Legacy Software' in the sidebar. The legacy software displayed here is 32-bit.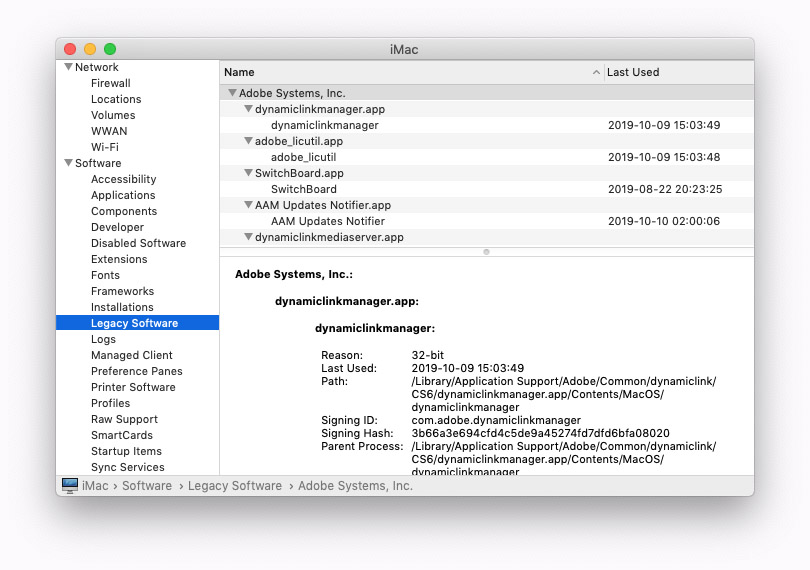 If 'Legacy Software' is not available select 'Applications' in the sidebar instead, this will show 64-bit support for all your apps in the right-most column.
Some notable apps that will not work anymore are the Adobe Create Suite applications. Adobe CS6 was the last release that didn't require a Creative Cloud subscription, so there are probably many designers around that are still using it. Be aware that some CS6 apps might show up as 64-bit enabled, but they will not work on Catalina due to some components they use being 32-bit. So if you decide to upgrade to 10.15 make sure you have chosen an alternative.
You can upgrade to a Creative Cloud subscription or perhaps switch to the more affordable Affinity Suite. Either way the fonts you activate using Typeface app (yes Typeface is 64-bit) will be available right away in these design applications and auto activation is supported for both suites as well.
Notarisation keeps you safe
Typeface app uses the latest security technologies to keep your Mac and digital files safe. One of these technologies is the Apple Sandbox, a requirement for distributing on the Mac App Store. The Sandbox prevents Typeface from accessing your files unless you explicitly give access. That means that the app won't be able to read your private files and —as a last line of defence— the app can't edit or harm your data in any way either. Luckily giving access to your fonts is very easy: just drag and drop your font folder onto Typeface app and the app will immediately import your fonts so you can preview them.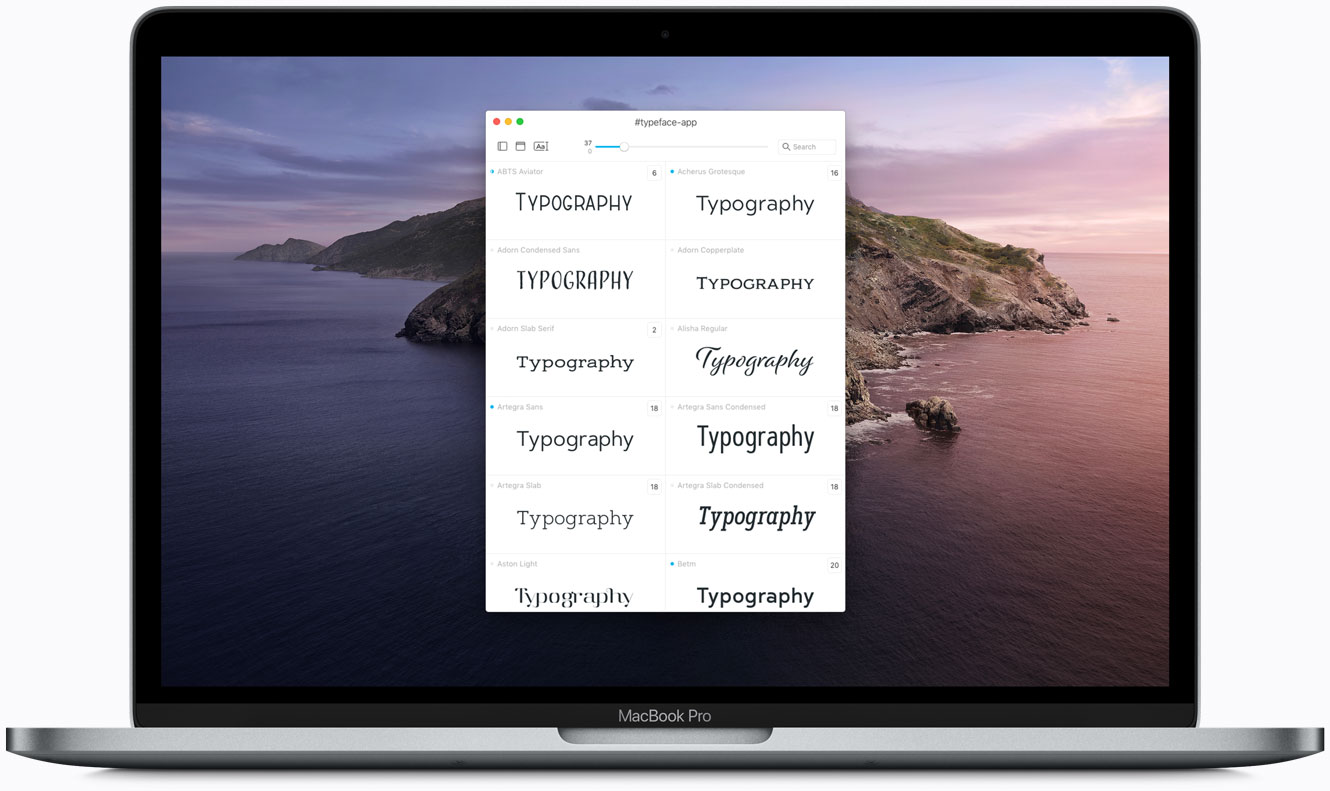 A new security restriction in Catalina is that app notarisation is now required. You've probably seen these popups before that ask you if you're sure you want to open an app from an unidentified developer. Previously macOS checked if apps downloaded outside the Mac App Store were created by a registered developer, but didn't check the app itself, just the creator. Only apps available on the Mac App Store, such as Typeface app, were fully (manually) checked by Apple.
Now in macOS Catalina every app should be notarised and checked (automated) by Apple before distribution. That means that Apple scans apps for malicious content and protects you from running apps that will harm your Mac or data. So if you see a message popping up that an app is from an unidentified developer or that an app cannot be opened because Apple cannot check it for malicious software, your best option is to not use the app. You can right click on the app package and choose 'Open' as a workaround, but that's not advisable—better be safe than sorry!
Font manager for Catalina
Some older font managers might not support the new Catalina release from Apple, due to the removed 32-bit support, the extra security restrictions or because they still need to be updated. Some might charge you for a new update and won't support their older release anymore. Typeface has already released a free update (including new dynamic previews) that allows you to manage your fonts on macOS Catalina, so you can safely update and continue designing.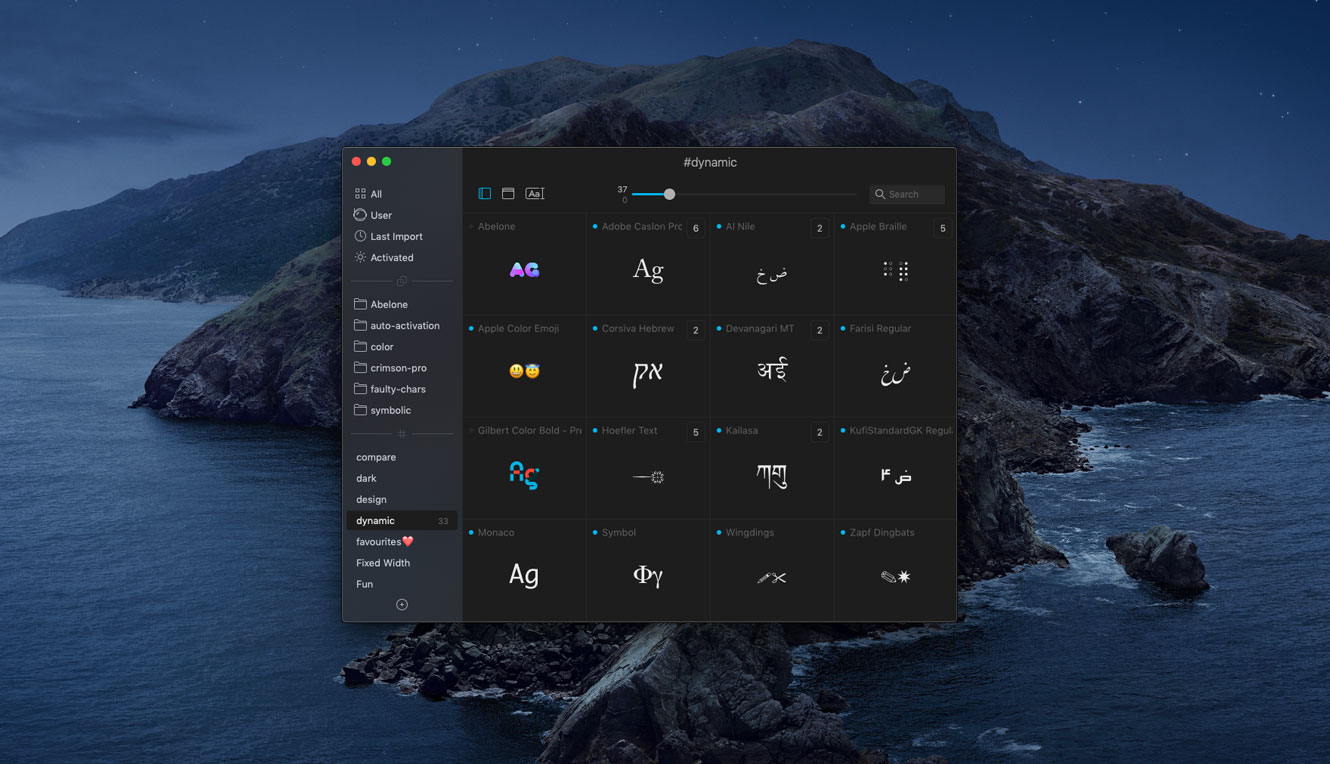 Want to migrate from another font manager like Font Explorer or Suitcase and use Typeface to activate and preview your fonts on Catalina? Send me a message so we can extract your font sets and collections and convert them into flexible Typeface tags. You can continue your font management on macOS Catalina using your current carefully created font library.
---