August 15th, 2018

The subscription-based service for Mac apps now includes your favorite font manager! Get Typeface with over 120 other premium hand-picked apps on a single subscription with Setapp.
Font manager on a subscription
As a fellow Mac user I know the current trend for Mac apps is to transfer to a subscription based plan — use the app, pay per month and get updates for free. While this might be beneficial and more sustainable to the developer, I don't think this is the most user friendly way of selling apps to customers.
It's hard to keep track of every little app you're using on a separate subscription, and having a few of those apps quickly accumulates to spending a large sum of money at the end of the month.
Typeface has always been an affordable font manager for Mac. You know what you get, there are no hidden in-app purchases and the upgrade to the redesigned version 2 was free for every existing customer. However the up-front payment might still be something that holds back new users. That's why Typeface is now available together with more than 120 awesome apps for only $9.99 per month on Setapp — a single subscription with a lot of value.

Hassle-free Mac apps
The biggest advantage of Setapp is that you don't need to worry about managing different subscriptions, passwords, licenses, in-app-purchases, updates — it's all taken care of. It's super convenient to have all your apps in one place! Just download Setapp (there is a free trial) and the full suite with 120+ high quality apps is available to you instantly.
You don't need to hesitate to download and try a new app, your subscription price stays the same. You're free to explore new apps, try things out and see if it works for you. And every new app and app update on Setapp goes through a review process, so you can be certain each app is checked & legit.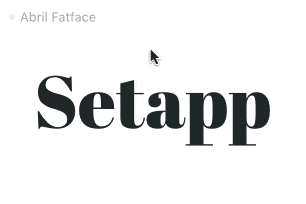 Improving your design workflow
The curated Setapp library contains many useful apps in a whole range of categories: productivity apps, task management, personal finance, writing apps and many more. Each app is hand-picked, so you don't have to browse through lots of meh apps like on the App Store.
Here are a few design tools that'll come in handy in your workflow:
Folio - Git version control for design files
Aquarelo - Lovely simple color palette app
Gifox - Record gifs of your animations, apps and designs
Inboard - Create a library of designs that inspire you
Flawless - Compare design with what is actually implemented
IconJar - Manage all your icons in a single place
Of course the Setapp library expands over time, so keep an eye on new apps that might be useful to you on the Setapp blog.
Just try it out for free for 7 days, at the very least you'll discover some awesome apps you haven't heard of before :)
P.S. Typeface will of course still be available as a single purchase on the web store and on the Mac App Store.